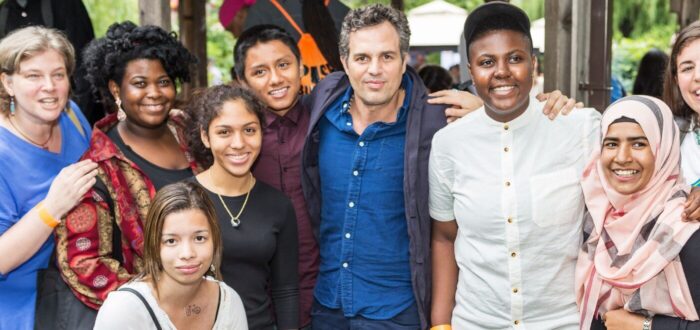 Laying the groundwork
Since our beginning, we've championed 100% renewable energy for 100% of people. First, through connecting science, culture, and business. Then, through focusing on local communities. They're the ones most impacted by climate change. They're the ones leading and finding solutions. And they're the ones who inspire us to do what we do.
Amplifying voices
Our collective future depends on the work of many already solving problems they face in their own communities. Women and people of color are leading critical climate actions, so we've taken action to support them. Through our "100% Commitment to Justice" pledge, we've dedicated the vast majority of our resources to help fund, amplify, and connect their impactful work. We give their voices a much larger audience through our celebrity relationships. We build media partnerships that create space for their solutions to inspire millions more to support what really works. We do everything possible to ensure they have what they need to innovate, implement, and scale equitable climate solutions.
"The Solutions Project is helping lift up leaders from our organization to give women of color and people of color more of a platform and space to speak about solutions that are coming from our communities, in particular Asian American immigrant and refugee communities that tend to get left out and are not often represented."

– Miya Yoshitani, APEN
A moment becomes a movement
What began in 2013 as a call for what's possible is now a movement that has changed the standard for clean energy. And our grantee partners have led the way and are still working to make sure every 100% commitment is rooted in equity. 160 cities. Over ten counties. Eight states. 242 companies. All have committed to 100% renewable energy — and now must commit to a just transition.
Looking toward the future
Our commitment to Black, Indigenous and other communities of color, along with a pledge to elevate women in leadership doesn't stop with grantee support. We also ensure they have a seat at the table, and the materials to build their own tables — as they are the past, present and future of our movements. We're boldly shifting our own leadership and culture of collaboration. We're doing this through our programs, and from the inside out with our staff, board, and philanthropic trustees, reflecting our values and commitments. Meet our new President and CEO, Gloria Walton.