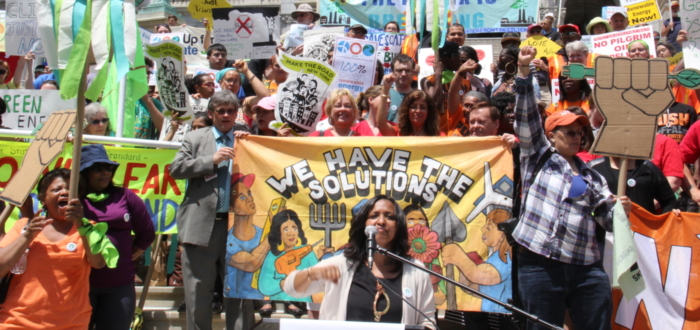 Two years, 101 frontline groups, $39 million…
November 9, 2023
By The Solutions Project
And we are just getting started…
Public funding should be accessible to the public – We the People! This idea has guided the Justice40 Accelerator over the last two years as we sought to radically reimagine a regenerative and restorative framework for the public grantmaking process. For far too long, communities of color, grassroots organizations, and frontline groups have had to overcome significant barriers as they sought to access billions in government funding earmarked to serve their communities. In the past, this money would typically be awarded to support initiatives from large, white, male-led nonprofits and well-established government contractors that already had the resources and capacity to compete for the funding. The partnerships these organizations formed with frontline communities to qualify would be, at best, superficial and, at worst, extractive. The process is broken. Thus, government grant money was not being directed to fund community-led solutions as was promised. Thankfully, the Biden-Harris Administration recognized this and issued Executive Order 14008 in January 2021, kicking off the federally mandated Justice40 Initiative. The Justice40 initiative is a "whole-of-government" approach to ensuring that 40% of benefits from federal climate and clean energy programs reach frontline communities. This policy was inspired by frontline climate justice organizers in New York State who led a successful campaign that resulted in the passage of the Climate and Community Protection Act, setting a 40% mandate for both benefits and investments of a clean energy and green economy in environmental justice communities.
The Justice40 Initiative finally created an opportunity to revolutionize what's possible in public funding across the country. And we were ready to take it on. Through solidarity philanthropy, innovative partnerships, grassroots guidance, and a sincere commitment to love, service, and frontline communities, the Justice40 Accelerator took shape. 
In the last two years, the Justice40 Accelerator has helped 101 groups with real-time, scalable, and replicable solutions to the climate crisis secure $39 million dollars in federal, state, and local government funds aligned with the Justice40 Initiative. What does $39 million dollars do for the communities these groups serve?
In Chicago, it helped Blacks in Green fund their effort to build a community-directed lead-free water project focused on education, testing, and increasing access to in-home filtration systems. 
In Hamilton, it supported the West Georgia Farmers Cooperative in advancing food security by providing funding for a community-owned grocery store, commercial kitchen, and credit union, empowering local farmers, producers, and culinary entrepreneurs to expand their local businesses.
In Stockton, it assisted Little Manila Rising in facilitating a just energy transition in their community via the Department of Energy's LEAP program. Through the acquisition of $500,000 in public funding, they are addressing longstanding energy and pollution challenges to establish a clean, dependable, fair, and secure electricity system that benefits the Little Manila community.
These are just a few of the success stories we have to share about the impact of the Justice40 Accelerator, and with our third cohort, we are thrilled to share even more! 
Visit the website to learn more about their work and see what's coming next for the Justice40 Accelerator.