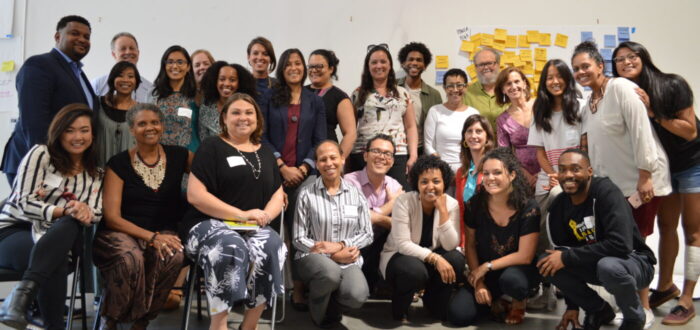 Work with us
We want you on our team!
The Solutions Project funds and amplifies grassroots climate justice solutions across the US and Puerto Rico, especially those created by Black, Indigenous, Immigrant, women, and other people of color led organizations. We operate as a national intermediary dedicated to improving the material conditions of the people directly impacted by the climate crisis, who we believe play a central role in finding and scaling solutions.
We make grants to dozens of organizations closest to the problems created by pollution and climate change, amplifying the ideas and energy of those on the frontlines.
We use culture, policy, and media as a strategy to bring focus and attention to what is working and what is not.
We mobilize media to help our partners tell their own stories for public audiences and reach decision-makers in government, business, and philanthropy to invest in community climate solutions we know work.
We are committed to a regenerative economy that centers equity-rooted strategies, community benefits, diverse leadership and just transitions. The current moment appeals to philanthropy to be more attuned and holistic in its approach. To recognize interconnectedness, and to be in deeper service of communities. This is the type of philanthropy we embody.
There are no positions open at this time. Please check back.
Let's create the future we want. Will you join us?
Our Cultural Values:
Transparency
Efficiency
Respect
Connectedness
Feminine Leadership
Our Grantmaking:
As an intermediary funder, we practice deep listening and trust-earning with our grantee partners. We support grantee partners through funding, amplifying grantee messages, and driving policy, narrative and culture change that centers frontline communities.
We're bold.
We are aspirational, creative, and always proactive. Those at the frontlines of pollution, extraction, and the shared urgency of climate change deserve nothing less.
We're inclusive.
We shine the light and invite everyone we can onto the path to a regenerative economy. We follow the leadership of those rooted in frontline communities who are showing the way.
We include everyone.
We leverage and strengthen the field, connecting dots and resourcing others, as needed. Our movement's assets are many and must be shared for collective impact.
We advance equity.
We center equity-rooted strategies, community benefits, diverse leadership, and just transitions. The transition to a regenerative economy must center and directly benefit those people most impacted by pollution, extraction, and climate change.