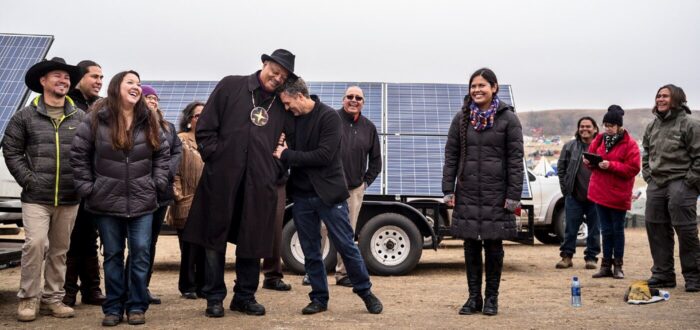 Build Media Capacity
Provide. Grow. Amplify. Influence.
We support climate changemakers, innovators, and solutionaries in multiple ways as they lead and advance bold solutions within their communities. As their visibility heightens, so do their social, emotional, and logistical demands. Providing communications training, digital capacity, and media tools along with wellness supports are some of the ways we help them better navigate these demands, build cultural power, and ultimately grow their influence.
"The Solutions Project was on the phone with us in the very beginning as we were starting to come together and facilitating the beginnings of the Energy Democracy Alliance in 2014. They were in on the ground floor and funded convenings and member organizations to do early coalition building and coordination. They gave in-kind communications support through communications consultants, which helped us with social media, media releases, op-eds and a strategic communications training. The Solutions Project gave us access to those resources."
– Jessica Azulay, Alliance for a Green Economy, Energy Democracy Alliance
Provide
We're a full service shop when it comes to helping our partners seize opportunities that amplify their stories, solutions, and successes. We listen to our partners and provide them with every practical tool they need, by way of our nimble and supportive delivery partners. The evidence of our success lies in the number of grantees who seek their services and our support, directly — whether it's supplying video equipment for at-home video production, covering the costs for a publicist, or creating shareable graphics for a big campaign. We also provide production services that can be put to immediate use in the community.
Grow
Our staff provides coaching, aligns production, and matches media opportunities to our partners' strategies and our shared narrative so we grow together in our reach, even as we fortify each organization's roots. We help our grantees strengthen and build their communications skills through our essential services, workshops and training. We assist them with basic storytelling techniques, presenting to the media, and planning and managing marketing campaigns. We offer opportunities to take meaningful breaks from the intense demands of advocacy work through curated  wellness programs.
Amplify
We help get the word out about our grantees' amazing work. We do this by leveraging connections with influential people who reach millions through digital and earned media along with their creative projects. Through a mix of celebrity engagement and media partnerships, we use our relationships to further amplify our grantees' messages, stories, and efforts.
Influence
We help uplift our grantees as they change the media narrative around the climate crisis. Public discourse changes the conditions within which advocacy and policy can win, which leads  to far greater impact for our movement as a whole. As our grantees further shape the narrative, we work behind the scenes to measure, evaluate, and refine their collective impact.
We Get Results
We aim to radically diversify and root the stories of climate solutions in the frontline communities that our grantees serve through news coverage, digital content, and popular media channels.