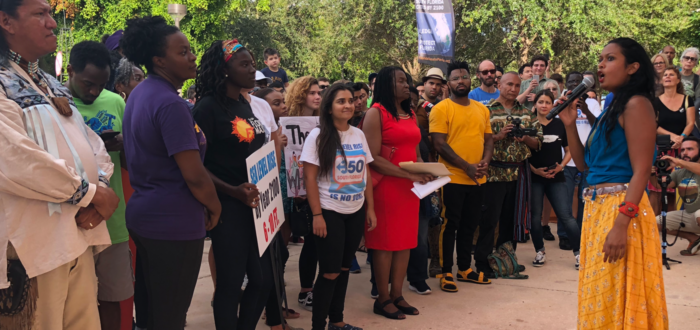 Make Grants
Our pioneering 100% Commitment to Justice nurtures feminine leadership and leaders of color in our movements.
At the start of 2019, The Solutions Project pledged to invest 95 percent of our resources in innovative frontline leadership of color, with at least 80 percent going to organizations led by women. Greater leadership diversity leads to greater success, and when it comes to curbing climate change, success is the only option.
What We Fund
Examples include: community organizing, policy work, fossil fuel infrastructure resistance, Indigenous-led movements, innovative community development projects, and democratically controlled rural electric cooperatives.
How We Fund
Successful applicants must have a cultural power-building component that leverages strong narrative and storytelling opportunities. Most applications must also support a Just Transition.
Support Beyond Grants
Grantees also get support in the form of storytelling services to learn how to better build cultural power, and connections with influential people to help them get things done.
The Fighter Fund
This year, The Solutions Project responded to the disproportionate impacts of COVID-19, police brutality, economic depression, pollution, and climate change on our current grantees who are rooted in communities of color and working class communities, at the frontlines of all these compounding crises. With the new and bold commitment by the Bezos Earth Fund in November 2020, we are preparing to relaunch our open-call for grant applications at the top of the new year. If you are a leader or otherwise support an organization that meets our criteria for funding, please sign up for our email list and join us on social media to be the first to know when we are receiving new applications for funding!
Due to increased needs from our current partners in response to COVID-19, we do not currently have rapid response funds available.
Resources are designed to support place-based movement moments through organizing, direct action, advocacy, and lobbying activities; communications that build public will and cultural power; inclusive coalition building efforts; and frontline led models of innovation, like community solar or regenerative agriculture.
Ideal grantees are tax-exempt organizations, either 501(c)(3) or (c)(4), that:
Are governed by the communities in which they serve

Mobilize marginalized communities

Have the capacity to leverage resources from additional funders

Are experimenting with innovative tactics to activate constituencies.
Grants range between $500 to $15,000 (averaging $5,000 per grant). When this pool of funding is open, we accept applications by partner recommendation, and by open application on a rolling basis.
The Fighter Fund also provides capacity-building grants that support community-based organizations that build cultural, economic, and political power for frontline communities, demonstrate the potential of community-based regenerative economy innovations, and create pathways for a Just Transition.
The Fighter Fund makes general operating support grants. Ideal grantees are:
501(c)(3) or (c)(4) tax-exempt organizations that are governed by the communities in which they serve
Black, Latino, Indigenous, API, Women, Intergenerational, and LGBTQ led organizations with strong and emerging leadership
Organizations with an annual budget under $1.5 million
Ready to scale experimental work in the Just Transition movement.
Currently, Fighter Fund capacity building grants are up to $50,000 per year (typically averaging at $20,000 per grant). These grants are designed to be flexible dollars that catalyze new solutions and help organizations leverage their stories to take those solutions to scale. Typically, an investment from The Solutions Project lasts for three years. If the grant is awarded to a 501(c)(4) organization, funds cannot in any way be used to support electoral candidates.
Communities of color in the South, especially women leaders, are banding together to fight climate change; build local, homegrown solutions; and promote a clean energy future. The will is there. The know-how and the talent are there. The only thing standing in the way is a shortage of resources.
To begin to remedy that shortage – and especially in light of hurricane season – The Solutions Project partnered with the Movement Strategy Center to award $60,000 in Fighter League grants to support six climate-movement women leaders of color from the Gulf South states.
Dig deeper into what our amazing partners are up to.
FAQs
Our grants typically support work in the following areas:
Local and state policy work (from legislation to implementation) that supports a just transition to 100% clean energy and a regenerative economy.
Fossil fuel infrastructure resistance if coupled with a Just Transition solutions framework.
Indigenous organizing and led movements advancing a Just Transition.
Supporting transparent, cleaner and democratically controlled rural electric cooperatives.
Community-led demonstration projects in need of seed capital advancing models of innovation in clean energy, water, food and other areas advancing a Just Transition.
Successful applications must have a cultural power building component that leverages strong narrative and storytelling opportunities.
Our grants fund ground-up not-for-profit organizations led-by and governed by the people living in the communities most impacted by the climate crisis and pollution of our air, water and land. While many of our grantee partners operate businesses and support individual members or volunteers, our grants are eligible only for those directly connected to those community organizations described above.
Due to the heightened needs and expanded programming of our existing grantee partners in response to the COVID-19 pandemic and uprisings in response to the police murder of George Floyd and more, our current budget does not allow us to accept proposals from new potential partners. We are actively fundraising to re-open our rapid response Fighter Fund to include small grants to organizations that match our criteria and are new or not currently supported by our grantmaking program. Please check back later this Fall.
Our grant program was launched as the country's first "intermediary fund" focused on equity and clean energy. We do not have an endowment and raise funds for our operations, capacity building, media, and grantmaking programs so our grants budget depends on our fundraising success.
Our total programs use culture as a tool to get people to pay attention to what's working and join the broader cause. Providing funding to the diversity of of leaders solving the climate crisis with clean energy, safe water and rich soil affordable for anyone is the first step to the culture change we seek. Today, less than 1% of donations go to women of color-led organizations and only 2% of clean energy media even references communities of color.
Our founders already had a bold vision and actionable case for a world powered 100% by the wind, water and sun — but what we agreed upon in that conversation was that in order to get free of fossil-fuels, we had to free up resources for leaders of color whose lives and livelihoods were by far the most affected by old dirty energy. Being closest to the problem, those leaders were also already implementing clean energy solutions.
Our grant program is the first step in our partnership with organizations at the frontlines of the climate crisis. We also provide media and storytelling, fundraising, networking, and other supports for their success.
Our Philanthropic Trustees represent leadership from the organizations we serve and the most trusted Foundations and philanthropic leaders in our field. Frontline Solutions evaluates our internal processes, data, and also confidentially surveys our grantees to provide a transparent of our strengths, areas for improvement, follow through on commitments, and integrity to mission. We are frequently recognized for our leadership and practice of what the Whitman Institute defines as "trust-based philanthropy."
More Questions?
If you can't find what you need to know here, please get in touch.
The Solutions Project has partnered with Frontline Solutions to design and implement an ongoing evaluation of the impact of our grantmaking work through 2020. In 2017, the evaluation measured a baseline of both the effectiveness of the grantmaking process and grantee partners' satisfaction with that process.
We completed an evaluation of our 2019 grantmaking and other direct services to our grantee partners. Data was collected from The Solutions Project's internal systems and through interviews with grantee partners, staff, consultants, peer funders, and philanthropic trustees.
Our initial evaluation yielded several recommendations for The Solutions Project's grantmaking:
Cultivate stronger and clearer communication with grantees.

Expand grants team capacity.

Clarify messaging on the relationship between communications and grantmaking.

Build the grantee referral system.

Continue to democratize the grantmaking process.

Continue to serve as a relationship builder.
Download and read our full evaluation reports here:
The primary findings in each of these four areas is summarized below.
Right bet, right time:

The Solutions Project has positioned its work at the intersection of climate change and equity strategies. The Solutions Project's grantmaking covered much of the continental U.S. and Puerto Rico. Leadership, Fighter, and Ecosystem Fund giving increased from 2015 to 2017 and Fighter Fund grants resourced urgent needs in a timely fashion. Nearly half of grantee partners were led by people of color, and 26% primarily focused on an issue other than environment or climate.

Strong organizations:

The Solutions Project's grantee partners have grown in impact in 2017. Despite a hostile political environment, the leadership capacity, membership, and political influence of many grantee partners increased. Grantees felt that political leaders on a state and local level were more aware of the issues highlighted by grassroots organizations than were political leaders on a national level.

Meaningful grantee and funder partnerships:

The Solutions Project has cultivated strong, trusting relationships with grantee partners. Grantees felt that they could be transparent and open with The Solutions Project staff and were satisfied with the application, approval, and reporting processes. However, more than one-quarter of grantees asked for better communication from The Solutions Project staff at the time of grant completion. Leadership Fund Committee members have transitioned to serving as philanthropic trustees. They are eager to own more of the work, and to rely less on the leadership of staff.

Rich ecosystems: The Solutions Project staff collaborate well with peer funders and push the field of philanthropy towards equity and diversity. Staff spoke to more than 20 audiences and published more than a dozen articles. Grantee partners reported that The Solutions Project has connected them to new funders and organizations.