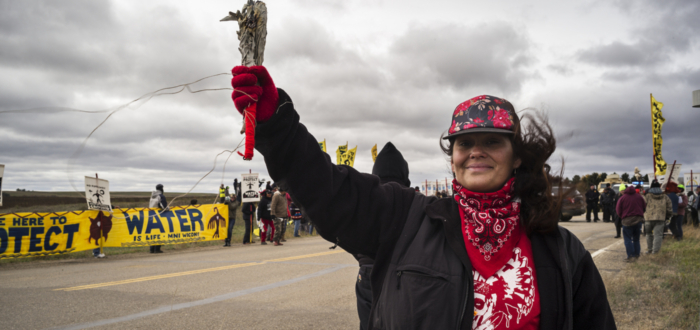 Welcome to Native American Heritage Month!
Recognized nationally in November, native American History Month (NAHM) is a time to acknowledge and pay tribute to the rich ancestry and traditions of Native Americans.
 Indigenous Climate Leadership:
Native Americans and Indigenous peoples worldwide have always been in right relationship with mother earth and understand humanity is intimately connected to all of nature and life.  Our grantee partner, Indigenous Environmental Network, measured the impact of this stewardship and reported that every year, billions of tons of greenhouse gas emissions are averted as a result of Indigenous resistance. Indigenous sovereignty and leadership IS climate justice and central to solving the climate crisis. Read the full report HERE.
As we celebrate NAHM, The Solutions Project continues our long stance in solidarity with Indigenous leaders calling for an immediate end to fossil fuels and a return to a regenerative relationship with nature. We are also proud to share this analysis from Ozawa Bineshi Albert, Co-Director of the Climate Justice Alliance, a partner of The Solutions Project. 
The Solutions Project began to prioritize Native women-led grantees early in 2016 and launched our Fighter Fund rapid response grantmaking that summer as the Standing Rock movement grew. Today we fund dozens of Native-led organizations across our programs including these six partners we hope you will consider supporting directly:
Giniw Collective is an Indigenous-women, 2-spirit led frontline resistance to protect our Mother, defend the sacred and live in balance. We stand unafraid. Prayers into action.
Honor The Earth creates awareness and support for Native environmental issues and develops needed financial and political resources for the survival of sustainable Native communities. Honor the Earth develops these resources by using music, the arts, the media, and Indigenous wisdom to ask people to recognize our joint dependency on the Earth and be a voice for those not heard.
The Indigenous Environmental Network is an alliance of grassroots Indigenous Peoples whose mission is to protect the sacredness of Mother Earth from contamination and exploitation by strengthening, maintaining, and respecting traditional teachings and natural laws.
The Native Organizers Alliance (NOA) is dedicated to building the organizing capacity of tribes, organizers and community groups for transformational policy change. It also provides a forum for Native leaders, organizers and organizations to work in collaboration with each other and promote their work with non-Native national allies.
Native Renewables is committed to educating tribal members of all ages about the potential for solar energy and the basics of electricity & provides off grid solar power to homes on the Navajo reservation and Hopi reservation through their Hozho Homes Program.
Thunder Valley Community Development Center is building an entire community from the ground up in order to create a space that has Oglala Lakota creativity, imagination and interests at the center of its design.  This "Regenerative Community Development" recognizes the bond between tradition and innovation by building upon their Lakota values with eco-friendly designs that will ensure the wellbeing of their people, our planet, and their prosperity as a nation of Oglala Lakota people