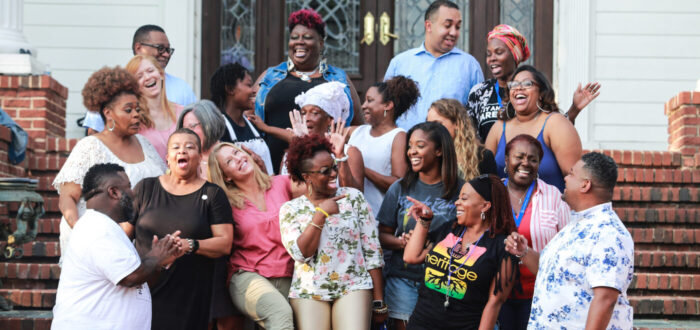 Black Climate Week 2023
Solidarity Philanthropy - For the Love of Humanity
What is Black Climate Week?
Black communities make the smallest carbon footprint, yet they face the worst of environmental degradation. This proximity to the problems means frontline communities are also at the forefront of climate solutions. Yet, they receive the least amount of support. To create equitable climate solutions, we must honor the leadership, voices, and stories of Black communities. Philanthropy MUST dismantle historical barriers & move forward with transparency, accountability, and solidarity.
With this commitment in mind, The Solutions Project created #BlackClimateWeek. Recognized during Black History Month, Black Climate Week honors the innovative climate solutions and environmental justice work that Black folk have been leading for years, while simultaneously calling in philanthropy & the media to do a better job at investing in the communities most impacted by the climate crisis and centering Black voices from the bottom up and the top down.
Now in it's third year, this award-winning campaign is focused on philanthropy and its power to create the future we want by showing up in solidarity with Black communities advancing a just transition to an equitable and regenerative economy. As climate action rises in importance across all communities, a spotlight on Black leadership offers a powerful path forward.
As we move to repair our COVID-battered economy, we have a chance to make it better and more just than it was before. We need to urge our leaders to Build back Better by investing in American clean energy to create more jobs and less pollution. Investing in clean energy will mean cleaner air for more of our communities and help families recover— especially if we focus these investments in communities of color that suffer disproportionately from chronic air pollution. And because we know that coronavirus is deadlier for people with conditions caused by air pollution—such as heart and lung disease—that's more important now than ever.
In 2020, only 0.5% of philanthropy dollars went to environmental justice organizations. That's only $25-50 million of the $471 billion that donors gave to nonprofits in 2020. That's about how much The Nature Conservancy raises every week.
More than half of African Americans live where hurricanes and floods are getting worse. They live in the South, where climate change is causing stronger hurricanes and increased flooding.
African American communities are more vulnerable to severe weather and floods. This is a holdover of redlining and housing segregation.
Polluted air can trigger asthma, putting African Americans at higher risk. That's because they have an almost 3 times higher chance of going to the hospital or dying from an asthma attack than whites.
Environmental justice communities have been led by Black, indigenous and immigrant folks for decades. The communities have always been there, but the story hasn't been told.
Climate justice is racial justice, and racial justice is climate justice. It's communities disproportionately affected (by climate change and inequity) who will understand the problems more holistically and know how to solve them.